Dolmen Light Tunnel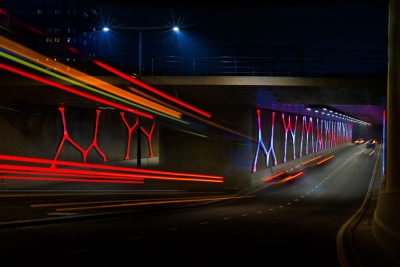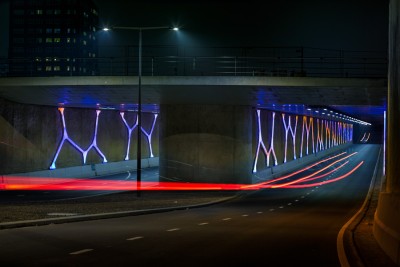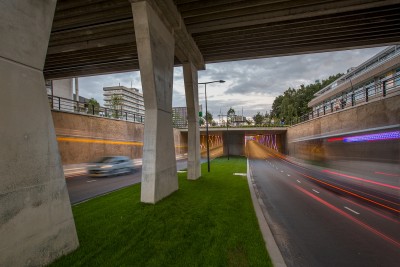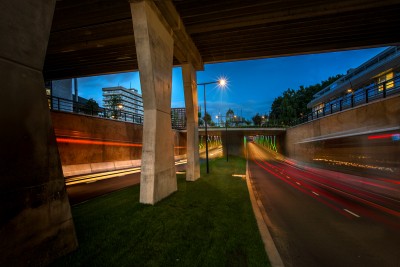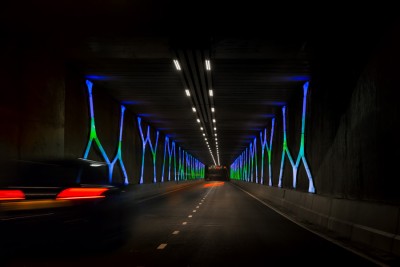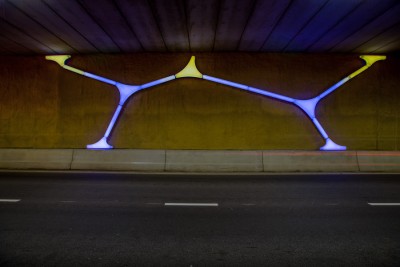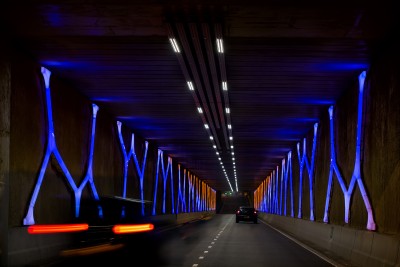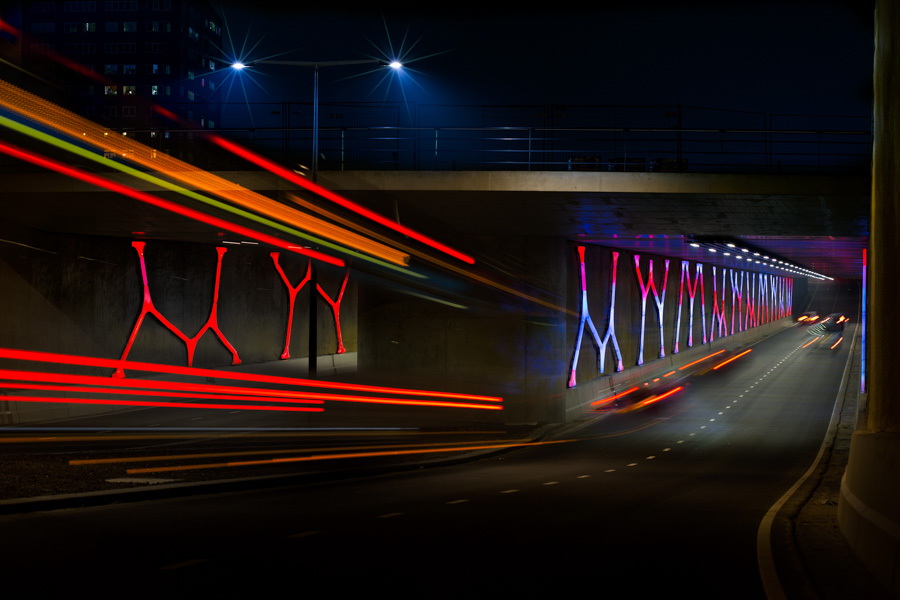 Dolmen Light by Titia Ex Photo: Theo Berends Photography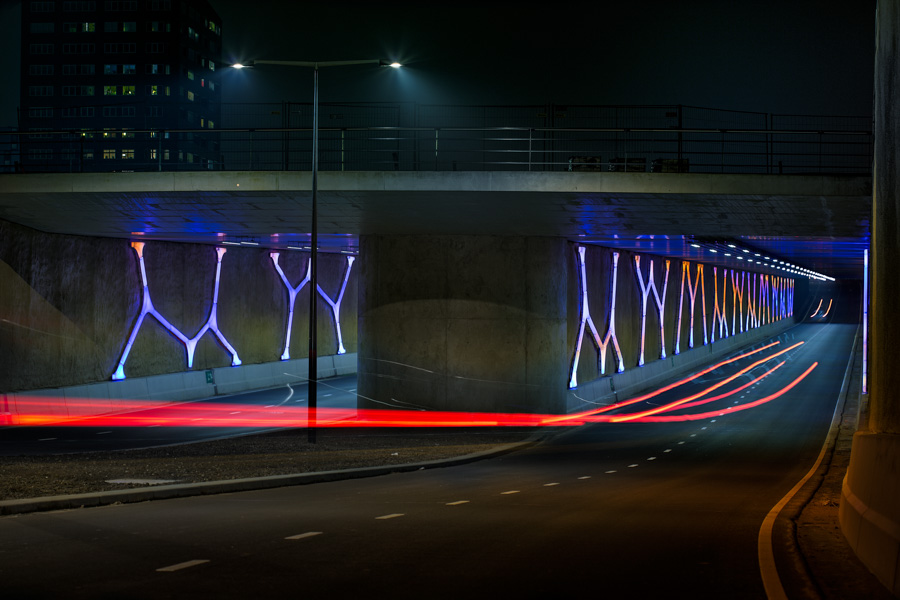 Dolmen Light by Titia Ex Photo: Theo Berends Photography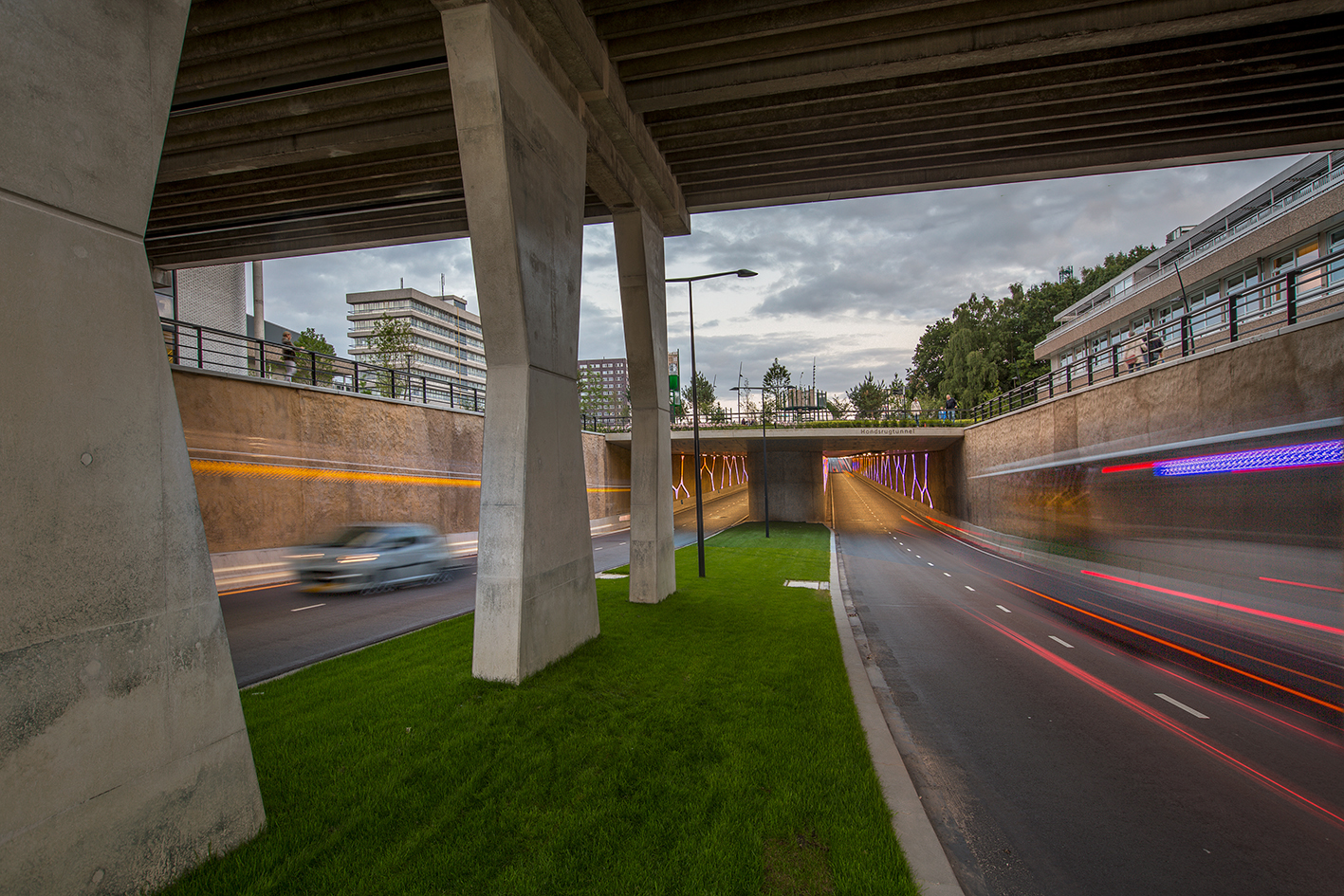 Dolmen Light by Titia Ex Photo: Theo Berends Photography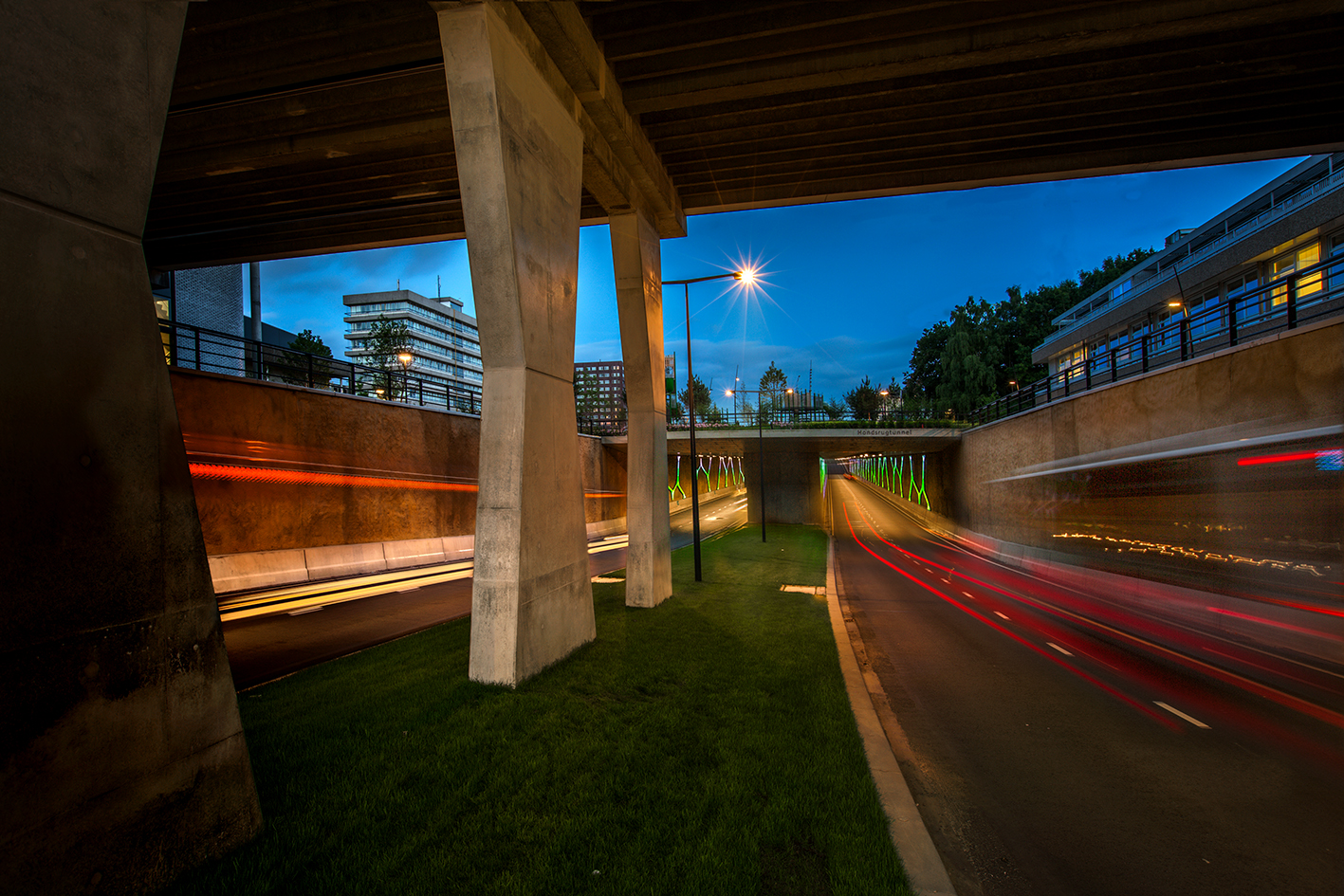 Dolmen Light by Titia Ex Photo: Theo Berends Photography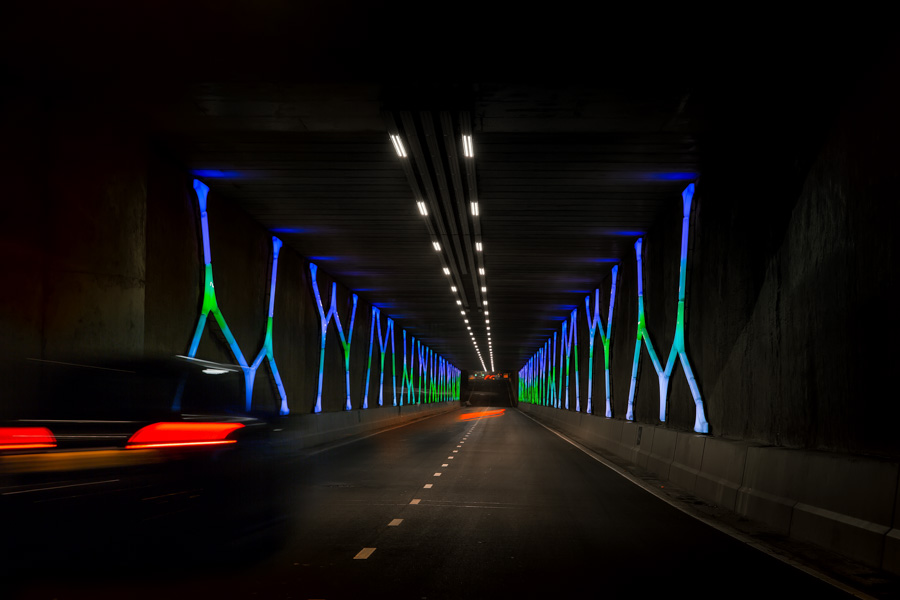 Dolmen Light by Titia Ex Photo: Theo Berends Photography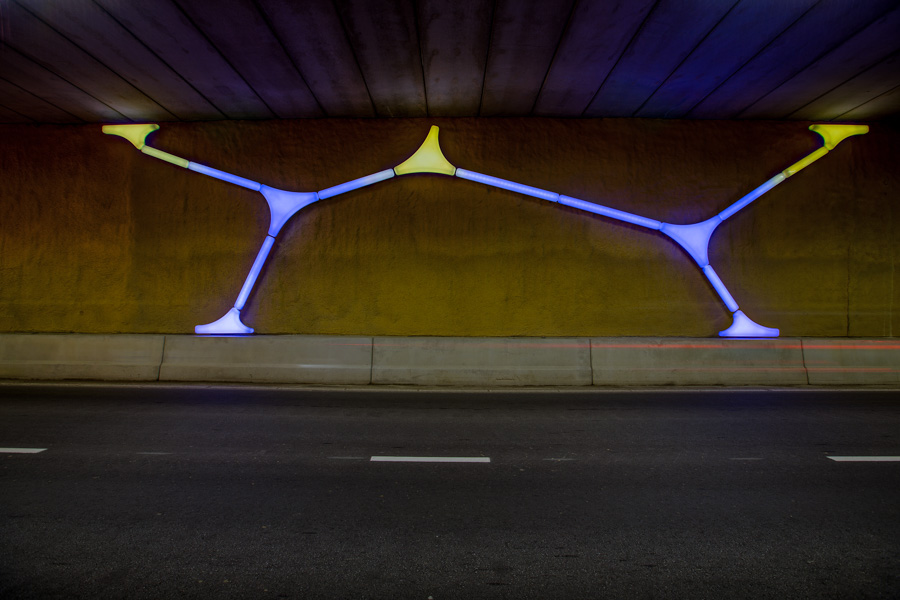 Dolmen Light by Titia Ex Photo: Theo Berends Photography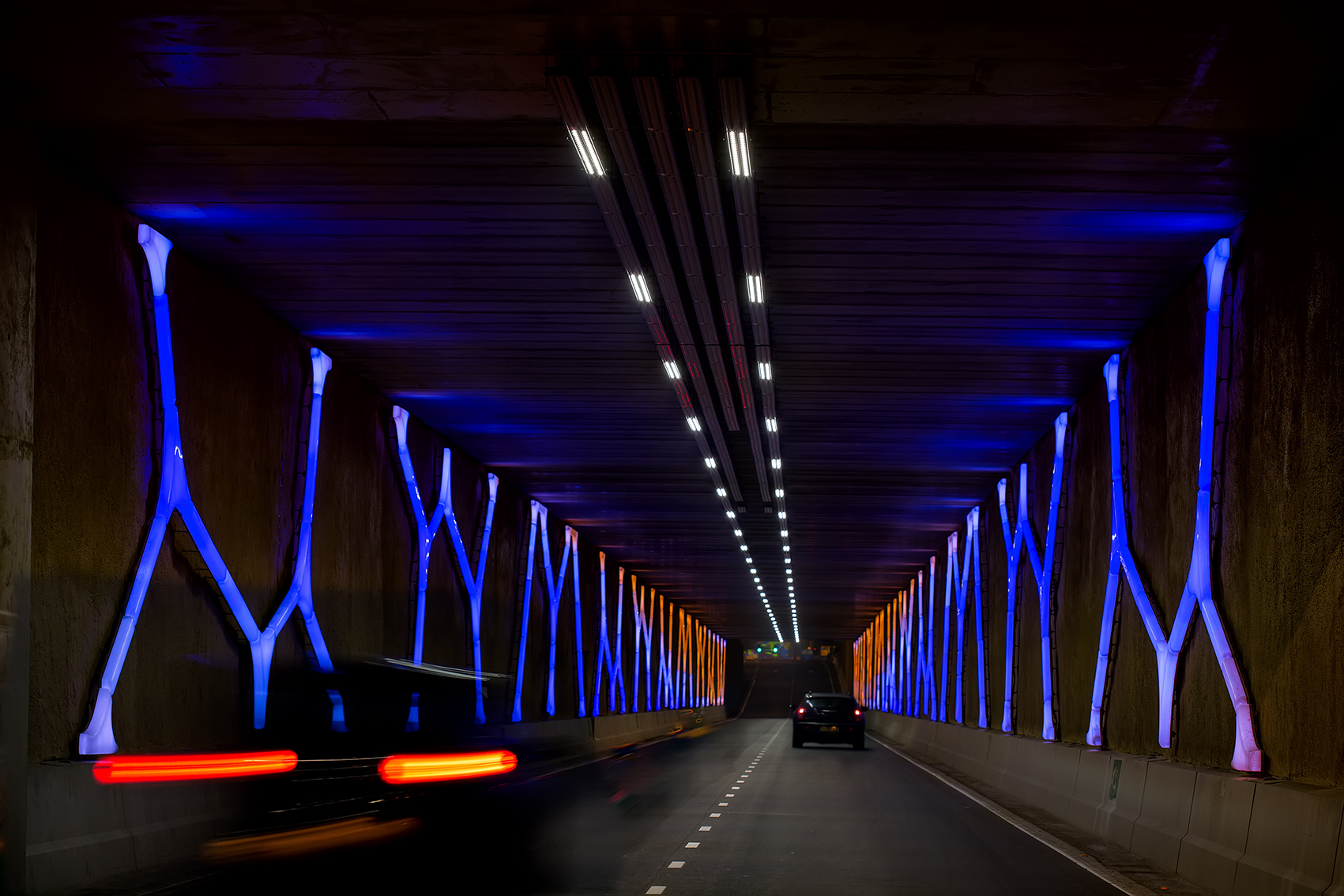 Dolmen Light by Titia Ex Photo: Theo Berends Photography
Dolmen Light
Dolmen Light
Specs: Comprising: two traffic tunnels, each 235 meters long, LED programmed in time, color, either horizontal of vertical.
The city of Emmen lies on the Hondsrug in the Dutch province of Drenthe. About 5500 years ago, this region was a major centre of the Funnel Beaker Culture. The soil contains huge boulders, brought from Southern Scandinavia by glaciers and used as building materials to make the mysterious dolmens (Hunebedden). Dolmen Light is based on these special boulders, 'The Gold of Drenthe' and located in a newly built tunnel. The tunnel walls represent the Hondsrug soil: dark boulders and organic space between. From outside, you see the black holes but once you enter a dolmen you see the light from outside animatedly sparkling and twinkling between the boulders. The light installation reflects the past and connects it to the present with today's latest techniques, a passage in time.
The light program in the tunnel adapts to traffic speed, usually about 50 kilometres per hour. A pre-programmed palette of colours gradually turns into a different palette as you drive through and changes again as you leave.
"Her work 'Dolmen Light' in the Hondsrug Tunnel in Emmen for example is a dynamic light sculpture that keeps pace with the traffic. For dark tunnels those responsible for traffic safety often look for solutions in the form of static light sources. But fixed points of light do not provide the best sense of security. The inclusion of movement and rhythm, however, and having the light keep pace with the road users, removes these vague fears." - Alex de Vries
The programming is work in progress, in the future, light will include effects based on animals and other organic forms from the adjacent zoo Wildlands in Emmen.
Client: municipality of Emmen
In collaboration with the municipality of Emmen, Royal BAM Group, Pree-e-rf-tech, Philips Lighting/ Signify.
Dolmen Light
Specs: Twee verkeerstunnels, elk 235 meter lang, LED, geprogrammeerde lichtanimatie.
De stad Emmen ligt op de Hondsrug in de provincie Drenthe. Ongeveer 5500 jaar geleden, was deze regio het belangrijkste centrum van de Trechterbekercultuur. De bodem bestaat uit zand, leem en enorme rotsblokken, meegenomen uit Zuid-Scandinavië door gletsjers in de ijstijd, en gebruikt als bouwmateriaal voor het maken van Hunebedden.
Dolmen Light is gebaseerd op het 'Goud van Drenthe' en verwijst naar hoe belangrijk deze Hunebedden zijn voor Emmen en omgeving. Het licht in de tunnel vertegenwoordigt de organische ruimte tussen de stenen. Van buitenaf zijn het zwarte gaten, echter bij het betreden van een Hunebed, zie je het licht sprankelen en twinkelen tussen de keien door. De donkere vormen in de tunnel omsloten door het licht zijn de keien. De tunnelwanden de bodem van de Hondsrug. De lichtinstallatie weerspiegelt het verleden en verbindt het met het heden gebruikmakend van de nieuwste technieken, een passage in de tijd.
Het licht programma in de tunnel is aangepast op de snelheid van auto's, gewoonlijk ongeveer 50 kilometer per uur. Bij het betreden van de tunnel verandert een vooraf geprogrammeerde palet van kleuren geleidelijk in een ander palet. Begin en einde zijn nooit hetzelfde. In de toekomst wordt het licht lichtprogramma uitgebreid Er wordt meer content toegevoegd gebaseerd op dieren en andere organische vormen uit de naastgelegen dierentuin Wildlands in Emmen.
"Het werk Dolmen Light in de Hondsrug Tunnel in Emmen is een dynamische lichtsculptuur die gelijke tred houdt met het verkeer. Voor donkere tunnels worden in het kader van verkeersveiligheid vaak statische lichtbronnen toegepast. Vaste lichtpunten dragen echter niet optimaal bij aan een gevoel van veiligheid. Juist door beweging en ritmiek op te nemen, door het licht met de verkeersdeelnemers gelijke tred te laten houden, worden onbestemde angsten weggenomen." - Alex de Vries
Opdrachtgever: gemeente Emmen.
In samenwerking met de gemeente Emmen, Koninklijke BAM Groep, Pree-e-rf-tech, Philips Lighting/ Signify.
Do you like to stay informed, please connect with Titia Ex on LinkedIn or email Studio Titia Ex